Emulsifier Pumps
Emulsifier of series ADM1-OM18 is designed to produce technologically stable emulsions of milk and vegetable fat in the manufacture of spreads and products combined with a fatty phase (condensed milk, cheese, dairy desserts, cream). Emulsifier can be applied for a wide range of homogeneous products: mayonnaise, sauces, ketchup.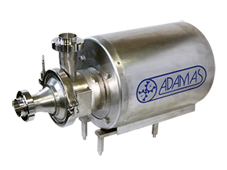 Technical indicators of :
probability of no-failure operation of emulsifier for at least 3000 hours
mean time to repair on-site operation of forces and means of the duty shift no more than 2 hours
average life emulsifier overhaul — at least 2 years.
During the installation, operation and maintenance is necessary to consult with the technical specifications.
No


Main settings

Еmulsifier

1

Productivity, m 3 / h

18

2

Max. inlet pressure, kPa / bar

400/4

3

Operating temperature range, ° C

85

4

Max. rotational speed, r / min

3000

5

Overall dimensions, mm:




length, mm

On the cover

Without housing

610

550

width, mm

300

300

height, mm

370-390

360-380

Weight, kg

42

36

6

Technical characteristics of the motor:

Installed power, kW

frequency, Hz

3

50